We are the No. 1 Ice Hockey Shop. Best online hockey equipment. We have many Ice-Hockey Skates from Bauer, Graf, CCM and others in store and deliver cheap hockey equipment very fast to UK, Ireland, Spain, Italy, Scotland, Belgium, Netherland, France and more countries in 3-4 days.
We deliver hockey products directly from Germany - fast and safe, without extra charge - the price you see in the end is your final price.
No minimum order value.
Best rated in shopvote votes.
Fixed shipping costs! You can order 1 or 10 parcels and only pay shipping costs once (mostly between 7.95- 9.95 Euro, no shipping costs for 600 Euro and up).
No Risk! You can send all products back if you dont like it.
No extra charge for shipping of hockey sticks.
Huge hockey warehouse stock.
Stored hockey goods ready for shipping in 36 hours.
We deliver to France, Belgium, Spain, Italy, Greece, Finnland, Sweden, UK, Netherlands and many other countries...
You can send back all products within 14 days after receiving the product back to us and get the money for the product back.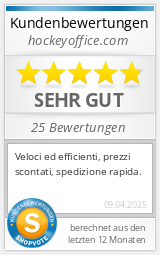 stored goods ready for shipping in 36 hours
huge warehouse stock
no minimum order value
no extra charge for shipping of sticks
That´s where we can help... and you may exchange it within 14 days!