Ice Hockey Online Shop & Roller Hockey Equipment Shop for UK, Spain, Italia ...
We are the No. 1 Ice Hockey Shop in UK. Best online hockey equipment. We have many Ice-Hockey Skates from Bauer, Graf, CCM in store and deliver cheap hockey equipment very fast to UK, Irland, Spain, Italy, Scotland, Belgium, Netherland, France and more country in 3-4 days-
we send directly hockey products from germany - fast and save, without extra charge - the price you see in the end is your price.

no minimum order value - we get always best shopvote votes

fix transport price

! You can order 1 or 10 parcel and only pay the same transport, mostly

between €7,95- €9,95 Euro over €600 free transport

No Risk! You can send all products back if you dont like it!

no extra charge for shipping of hockey sticks

huge hockey warehouse stock

stored hockey goods ready for shipping in 36 hours

all prices include VAT! In your basket (Shoppping card) you see the end price, there is

no duty

or other you must pay . Except Switzerland. The prices for our customers from Switzerland are without the VAT!

we deliver to france, belgium, spain, italy, greece, finnland, sweden, great britian, netherlands many other countries

You can send back all product 14 days afer you receive the product back to us and get the money for the product back. More Info you see below
to check the shipping cost for your country click here
We hope you find your hockey cheap equipment, for you hockey sport and use our discount hockey prices to order products from Bauer, CCM, Easton, Sherwood, Warrior, Misson or other hockey brands.
Discount
600 € and up
2%
1000 € and up
4%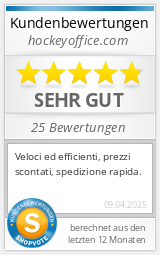 stored goods ready for shipping in 36 hours
huge warehouse stock
no minimum order value
no extra charge for shipping of sticks
That´s where we can help... and you may exchange it within 14 days!