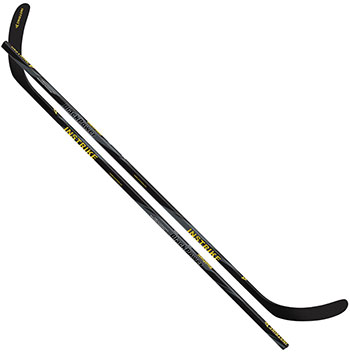 Instrike BlackPower Composite with only 420 gr. Schläger Intermed Stick 65 Flex Instrike BlackPower Composite Stick - Finally INSTRIKE introduces the follow up model of the bestseller GreenPower and it's been worth the wait!!!

Instrike didn't change the desing only. The german company pulled out a lot of new technologies from their magic bag.

They introduce a lightweight stick that weights 440 grams only but by using X-Woven Carbon Fabric the stick has a better durability of 30% compared with the GreenPower. And the durability of this stick was incredible, already. The X-Woven Carbon Fabric combined with the Multi-Layer-Technology, several High Tech foil lines protect the stick from breakage by impacts of sticks, skates or shots. These absorbing foils are being from hosel to handle.

By these two technolgies the stick delivers an amazing balance.

PLAYER PROFILE:
- for the sniper of the players who is looking for a fast puck release and a deadly precision

FLEXPROFILE:
- Mid Kick

SHAFTCONSTRUCTION:
- X-Woven Carbon Fabric
* the single fabrics are woven crosswise
* higher durability
* improved energy transfer und more powerful shots

- Multi-Layer-Technology
* several High-tech-Foils are used from hosel to the handle
* better absorption of impacts by shots, sticks, skates
- 30% more durability

SHAFT GEOMETRY:
- traditional shaft geometry
* square corners
* concave walls

GRIP / SHAFT COATING:
- Grip coating

BLADE:
- Reactive Hosel Design
* Wider base hosel helps to prevent rotational torquing of the blade
* Keeping your shots and passes flying straighter for longer
* faster puck release

WEIGHT:
- 420 grams

LENGTH:
- 57"
109.95 €




199.95 €

*

45 %




less
Additional discount for this item:
| Order value | Discount |
| --- | --- |
| 1000.00 € | 4 % |
Sizing and product infos
Keywords:
grip, instrike, power, senior, compsite, stick, icehockey, black, power, green, greenpower, blackpowerstick, dury, drury, batidor, matón, stick, racchetta, Bâtons, bâton, baton, batons