FAQ
How can I return an item / order?
To return one or more articles, please click on Return articles. Note: You must be logged in to see the information.
Where is my package?
You will find the shipping status of your order when you log into your customer menu under "My Orders". If your order has already left our house, the link "Package Tracking" appears on the right. By clicking on the link you will be redirected to our logistics partner DPD, where you can view directly a tracking number of your package. If your order has not been shipped, it may be possible that you have ordered items that are not in stock. These will be ordered immediately and shipped when they are received by us.
What are the opening times of the showroom?
Our showroom can be found at the following address:
Hockeyzentrale
Rendsburger Str. 14
30659 Hannover
Germany
Opening times of our showroom:
Wednesday 4 - 6 pm
Thursday 4 - 6 pm
Please understand that a visit of the showroom outside the opening times is not possible. But you can order 24 hours a day, 365 days a year in our onlineshop!
How do I measure the different sizes correctly?
The following description is intended to give an overview of how you can measure the sizes correctly.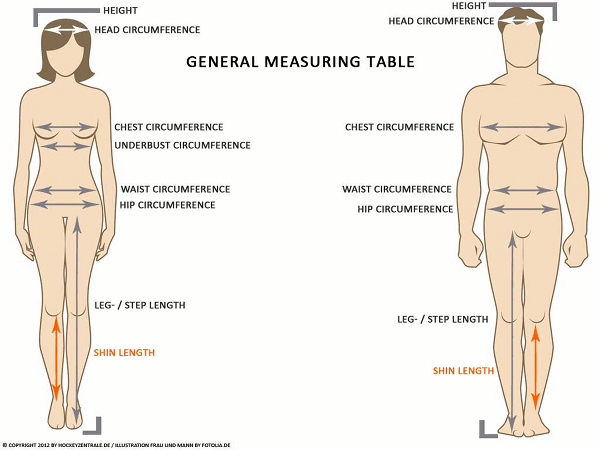 How do I know if the merchandise is in stock?
For information about availability click here.
How long is the delivery time usually?
Orders where all items are available (green box next to each product) leave our warehouse within 36 hours (Saturdays, Sundays and holidays not included). Within Germany we deliver upto the next business day (there is no delivery on Saturdays).
Ready for shipping
in 36 hours
Which pattern are there?
Most players need sticks left.
Order left when the left hand is down at shooting.
Please order the right when the right hand is below at shooting.
Animations of patterns:
Illustrations of patterns:
How much are the shipping costs?
Please refer to the cost of shipping the page Costs for shipping and payment.
When will I get a discount?
Depending on the order, a discount is credited to your account automatically. From 600, - € it gets 2% and from 1000, - € 4%. The discount will be automatically reflected in the shopping cart. Some items in our store are already extremely low so that the price can not be discounted! Under each article you will find a table which discounts are granted in the articles.
What payment methods are there?
You have the option to pay with the following payment methods:
direct debit
cash in advance
credit card (+ 5, - €)
Paypal (+ 5, - €)
cash on delivery (+ 6, - €)
Sofortüberweisung
Can I pay by invoice?
A payment by invoice is not possible for us. We offer various payment options.
Are there bulky extra costs?
There is no charge from us for the shipping of sticks, and no extra charge for larger Pakate or bulk orders. You only pay the shipping fee. No matter how many sticks and other items you order, we do not collect any bulky extras.
Can I print on shirts too?
A print of training jersey is not possible. We can send you a jersey in your own style. For more information, click here.
Can I create team jerseys?
We will be happy to create your team jerseys in your own design. With a decrease of at least 10 pieces, it's already starts at € 35.00 per jersey if the logo with the hockey center is incorporated.
Create the design here.
If you want to use a different font, please let us know the name of the font. If the font is a little more fancy, you should send us the font as .ttf file by email.
Send us the design and an Excel file with names and sizes by mail. The production time is 4-6 weeks.
Are there special team prices?
We will offer team prices for teams who placed our logo on the jerseys and where we are the official supplier. If interested, please send an email to us with information about your team.
Your question was not answered?
Then write us an email or call us at: +49 (0)511 - 542909-20 (normal landline rate).