CCM Hockey
It took 100 years of hard work and dedication on the part of every single CCM employee to get to where CCM is today, positioned as the largest hockey equipment manufacturer in the world.The beginning of hockey is debatable, Montreal, Kingston, Halifax, England and even Holland, but there is no debate over CCM's roots. In September of 1899 Canada Cycle & Motor Company Limited opened its doors for business in Weston, Ontario, Canada.
By 1905 the market for bicycles in Canada began to decline with market saturation and seasonality playing key roles. Experimentation with importing and the manufacturing of automobiles also did not work out. It is at this point that the sport of ice hockey was growing rapidly and CCM decided to endeavor into the market place with the launch of the CCM Automobile Skate. Within 30 years CCM dominated the hockey skate market with over 90% of all players wearing CCM skates with the remaining percentage being divided amongst seven other manufacturers. In fact, the NHL scoring champions between 1939 and 1969 all wore the world famous Tackaberry hockey boot with the CCM Prolite blade.
CCM'S PRO TEAM
CCM has a rich history of equipping the best hockey players in the world. CCM signed Hall of Fame legend King Clancy in 1936 as the first official spokesman.
Since then, CCM has been represented by a list of hockey legends including Paul Henderson, Darryl Sittler, Mark Messier, and current NHL superstars such as Carey Price, Sidney Crosby, Pavel Datsyuk, John Tavares, and Connor McDavid. With the help of constant research and product testing by the best hockey players in the world, CCM has built products from the inside out – high-quality, intuitive equipment that becomes an extension of the athletes themselves.
WE ARE CCM. WE ARE MADE OF HOCKEY.
Hockey is made of many things. It's made of frozen ponds, backyard rinks and community arenas. It's made of the sense of belonging to a team. It's the rush you feel when the puck drops. It's paying off all the hours of hard training and early morning practices. It inspires greatness while keeping you honest and humble. Hockey much more than just a game; it's a way of life. We have always been, and always will be, a part of this game.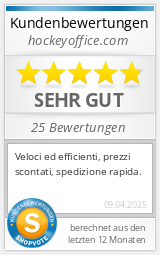 stored goods ready for shipping in 36 hours
huge warehouse stock
no minimum order value
no extra charge for shipping of sticks
That´s where we can help... and you may exchange it within 14 days!